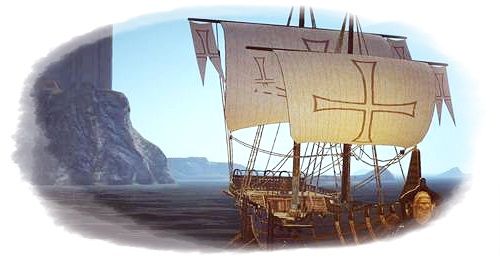 How to build Epheria Sailboat? What materials are needed to build it? How to get these materials?
Description of the Epheria Sailboat
It is a personal sailboat that is faster than the current fishing boat, equipped with cannons, and repairable.

Durability: 500,000
Weight Limit: 5000 LT
Storage Slot: 25
Cannons: 2
Acceleration: 100%
Speed: 100%
Turn: 110%
Brake: 11%
Materials
20 Design: Epheria Sailboat
600 Steel
300 Flax Fabrics
800 Standardized Timber Square
1500 Pine Plywood
How to get materials for the boat?
Epheria Sailboat Design
You need a total of 20 Epheria Sailboat Designs for the sailboat; you can get it from Daily Quest in Port Epheria. Talk/ Interact to Philaberto Falasi in port Epheria and he will offer you the daily quest (Falasi Family's Kindness).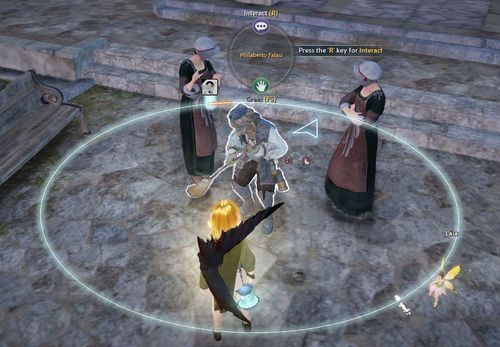 Pick up crate/ cargo next to Philaberto Falasi.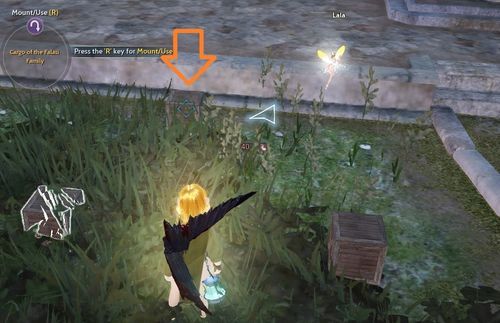 Deliver a crate/ cargo from Philaberto Falasi to Sebastian (Guild Wharf Manager) at the docks.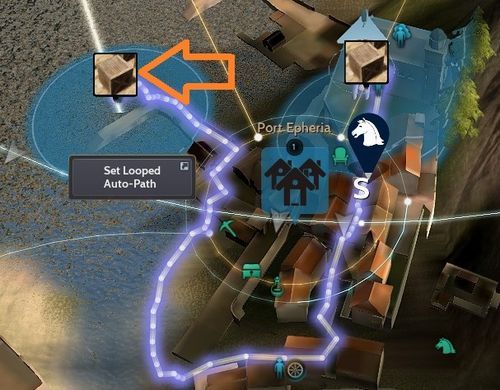 Interact with Sebastian.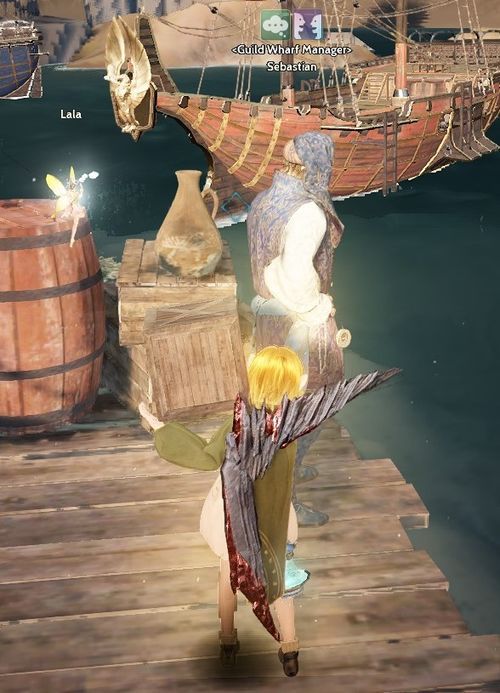 Back to Philabeto and claim the reward.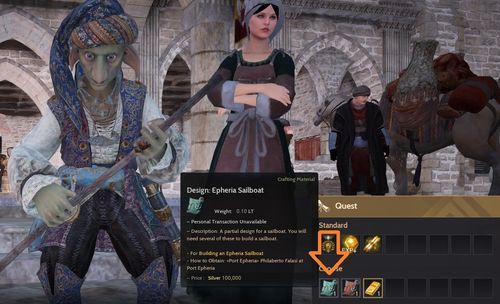 Steel
You will need 600 Steel. To Make 1 steel, you need 5 Melted Iron Shards and 5 Coal, so you should get:
3000 Melted Iron Shards
3000 Coal
To obtain a Melted Iron Shards you must get an Iron Ore from Gathering but you can use workers to get iron ore on several nodes available (Coastal Cave, Coastal Cliff, Northern Heidel Quarry, Southern Cienaga, Hexe Stone Wall, Abandoned Iron Mine, Akum Rocky Mountain).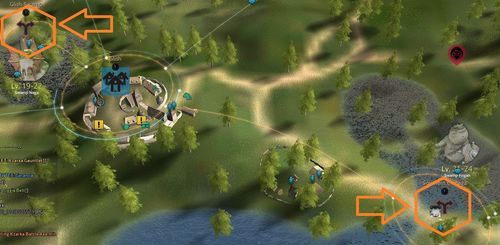 If you've got iron ore, then you need to heat 5 Iron ore to get 1 Melted Iron Shards. So you need 15000 Iron ore. And to get Coal, You can use workers to get coal on several nodes available (Keplan Quarry, Glutoni Cave, Omar Lava Cave).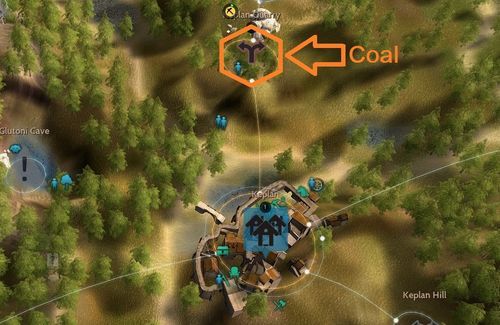 Process 3000 Melted Iron Shards and 3000 coal By Heating to get 600 steel.
Flax Fabric
You will need 300 Flax Fabric. To Make 1 Flax Fabric, you must Grinding 10 Flax Thread, so you need 3000 Flax Thread to make 300 Flax Fabric.
And to get 3000 Flax Thread, you must Process 5 flax by Heating, so you need 15000 flax. You can do Gathering but you can use workers to get iron ore on several nodes available.

Standardized Timber Square
To get 800 standard timber squares you need logs. To get logs you must gather trees and you can get logs only by collecting them.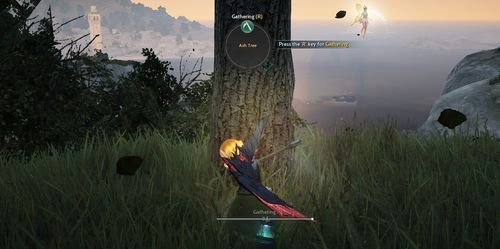 Then use processing to chop the logs into Usable Scantling and then again to change the Usable Scantling to Standardized Timber Squares. So you need 80000 logs.
Process logs by chopping to get 8000 Usable Scantling. Process 8000 Usable Scantling by Chopping Again to get 800 Standardized Timber Square.
Pine Plywood
You need 1500 Pine Plywood so you must Gather the trees and get Pine Timber, but You can use workers to get Pine Timber on several nodes available (Serendia Shrine, Marie Cave, and Khimut Lumber Camp), you need 75000 pine Timber.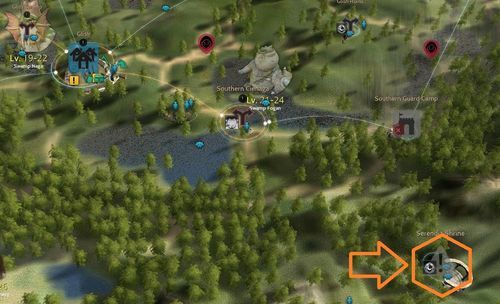 Process 75000 Pine Timber by Chopping to get 15000 Pine Plank, then process 15000 Pine Plank by Chopping to get 1500 Pine Plywood.
Building the Epheria Sailboat
If all materials have been collected, you are ready to build the boat! Put all materials in the storage port Epheria.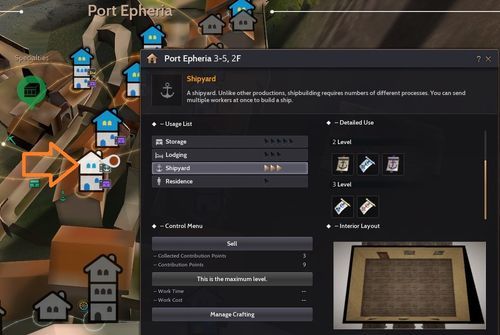 Shipyard Contribution Cost:
5 pre-requisite buildings (9 CP)
1 Shipyard building: Port Epheria 3-5 2F (3 CP)
Worker Lodgings (1+ CP)
1 Lodging: Port Epheria 3-3 2F (1 CP)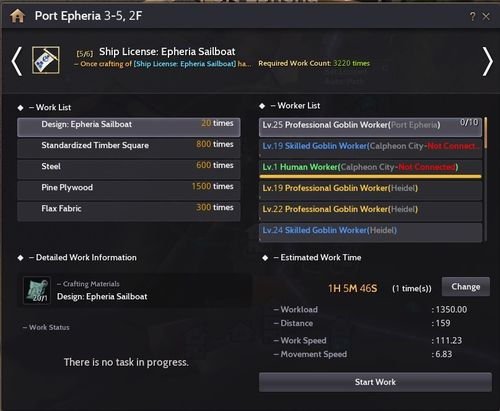 Upgrade Epheria Sailboat
The boat can be upgraded to Improved Epheria Sailboat (T3) or Epheria Caravel (T4), and high end Upgrade carrack (Advance) or Carrack (Balance).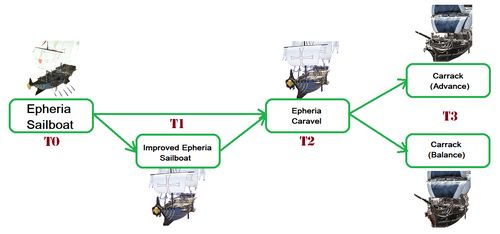 Credit to MEQIEW