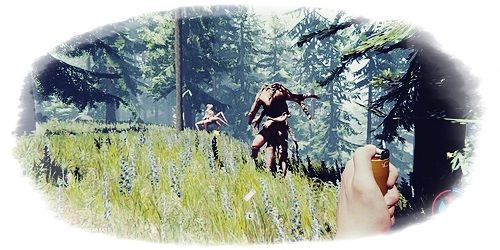 New to the game? Haven't played the game in awhile? I'm here to help, giving you the best tips to help jump-start your adventure that awaits you in The Forest!
Introduction
So you've probably either just gotten The Forest during the most recent sale, or you've had it for awhile and just haven't played it yet but you're too overwhelmed by what the game has to offer – or maybe you're returning to the game and have mysteriously forgotten what the game was about. No matter why you're here, my plan is to help you have a smooth experience so that you can enjoy the game to the fullest.
Please enjoy the guide and understand that any question here will be answered as soon as possible. Let's dive into The Forest!
Basic Tips
After you gather up a lot of items, save and quit and reload the game and they will be back ready for you to pluck again. This is a good way to farm certain items, including the arrows located in cases in abandoned campsites.
1. Loot the Plane
Before you make your escape from the plane that has just crash-landed in a random area on the map, it is imperative that you take anything and everything that is on the plane – including the plane ax – before you go ahead and exit the halved aircraft.
The other items in the plane include some booze, energy drinks, and medications to heal you when you've been damaged by the locals or if you manage to take fall damage somehow, or any form of damage. The plane also includes foods that are ready to eat to give you that quick boost of hunger and thirst, so be sure to eat them too after you collect your consumables.
There is also a mission item in the plane that you can pick up near the cabinet with the booze on it.
2. Unlock the Suitcases around the Plane
You've exited the plane after stripping it of its loose contents. Now what? Make a jump for it, and around the plane, you'll see suitcases scattered around the spawn area that – when hovering over – will indicate the suitcase is locked. That is not the case for you, fortunately. Get it?
Use the ax that you have picked up before exiting the plane, and unleash carnage on the suitcases and they will open, each suitcase giving two items, either crafting items, consumables, or both. There are chances for other weird items to come out of them, including a tennis ball that can be used to play a friendly game of tennis* with the ferocious locals that inhabit the entirety of the forest.
These items will generally help you out with starting out on your first night in the forest.
*You will probably die when trying to play tennis with them. They don't play tennis, they're retired. That's why they came to the forest in the first place.
3. Craft a Bow and a Spear + Getting Arrows
After you've managed to open all suitcases around the plane's crash site, your next objective to be to search for supplies to make a spear and a bow. You're probably wondering to yourself: "Why does this guy think we know how to do that if we're reading a guide on how to do basic things?"
Well, let me tell you how to do just that.
Weapons
/ Item(s)
Item(s)
Required
Crafted
Bow
x1
Stick
x1 Cloth
x1 Rope
x5
Arrow
x1
Stick
x5 Feather
Above is what is required to make specific items that are mentioned in this section. For an in-depth crafting guide, I'll be writing up a guide including an extensive crafting guide. After it's posted, I'll link it in the description, introduction, and credits.
CRAFTING ROPE IS THE FASTEST WAY TO GET A BOW.
If you don't know to open the crafting interface, by default the key should be **I**. Right click the required items (so for the spear, just right click two sticks) then click the gear icon, assuming you put the right items down.
Getting Arrows
The easiest way to get some arrows is to wait for a bird to land on the ground and look down at them and slam your ax on them and quickly grab the feathers they drop. Do this until you have about 10-15 feathers so you can make a good amount of arrows. Spawn areas usually have good bird spawns there, and if not, they're easily accessible throughout the map, so finding them should be no problem.
Aiming the Bow / Spear
This can be very difficult for people since this game has no cross-hair, so I'll make this as simple as possible.
Bows: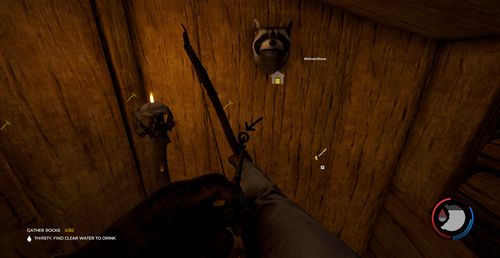 The circled area is where you want to aim when preparing to fire a bow at an enemy or animal.
Spears: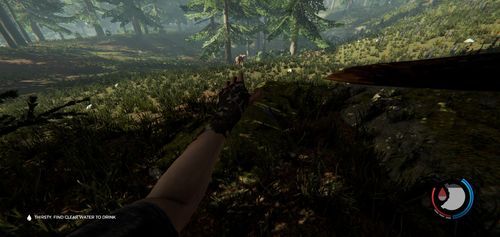 Position it under the target just like in the picture showed above.
SPEARS AGAINST ANIMALS ARE A ONE-HIT KILL WHEN THROWN.
4. Find a Suitable Plot of Land for a Home Base
After you've acquired some good supplies, you want to settle down someplace comfortable. The best place to call home consists of a few elements. Having a drinkable pond that has fish, and deep enough to clean yourself off if you get too much blood on you to negate the risk of catching a disease is essential for your land. Also, if you can find a spot with good rabbits and lizards nearby, that's a plus, since **lizard skin** can be used as armor, and **rabbit fur** is used for lots of good stuff (including a bed for your home if you decide to make a custom home, which isn't recommended for new players).
Creating your first home is always a monumental moment for The Forest players, so make your base in the perfect place to ensure a proper survival experience.
5. Get Settled in and Suit Up
After you've gotten yourself a place to rest and save your progress, you'll want to get yourself some armor to reduce the amount of damage taken against hostile locals, or animals. You'll regret not having armor, even if it's **lizard skin**, anything helps you in the long run, so make the most of what you've gotten.
You can take deceased locals and burn them in a campfire and take their bones to craft some **bone armor**, which is the second best armor in the game.
Here is a list of all damage-reducing armor, from worst to best:
6. Harvest Crops Throughout the Forest
I cannot stress this enough – PICK ANY PLANTS YOU FIND THROUGHOUT THE WORLD.
Seriously, healing up has never been easier with craftable herbs. The best mixtures you can make are below:
Herbal
Mixtures
Item(s)
Required
Effects
x1
Herbal Medicine
x1
Aloe Vera
x1 Marigold
+50
Health
x1
Herbal Medicine +
x1
Aloe Vera
x1 Coneflower
x1 Marigold
+100
Health
x1
Energy Mix
x1
Chicory
x1 Coneflower
+80
Energy
+50 Hydration
+50 Stamina
x1
Energy Mix +
x1
Aloe Vera
x1 Chicory
x1 Coneflower
+100
Energy
+60 Hydration
+60 Stamina
These crops can be found throughout the world, and are seriously beneficial to the player. Eating other plants like **blueberries** is another good way to increase your hydration and hunger on the go on your adventure.
7. Explore the Forest
You've emerged from the plane, got some good supplies, and a base built for you to sleep in when the nighttime comes around. Now, you are free from my clutches to do whatever you please. My next suggestion is to explore the forest, and find additional supplies to make your survival easier.
The forest has loads of neat areas to discover, both above ground, and underground. Be safe on your travels, and if you have any other survival-related questions, feel free to ask me through the comments.
Acknowledgements
Thank you for reading this guide. I hope this guide has assisted you in any way!
Credit to Ninjaty2012